Release date: November 19, 1999 (USA)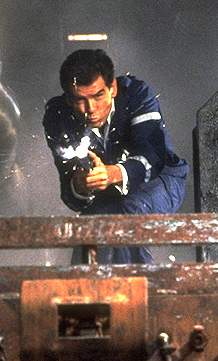 MI6 Is Used To Carry Out The Assasination Of An Oil Tycoon, Who Happens To Be A Close And Personal Friend Of M. So Bond Is Sent To Protect The Oil Tycoon's Daughter, Electra King, But The Question Is, Can He Save Her From Her Would Be Assassin When He Couldn't Save Her Father? But Of Course. He's Bond, James Bond.
---
The Cast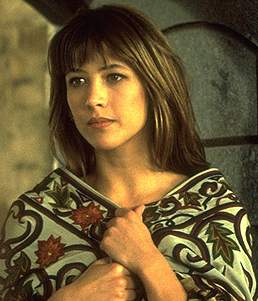 Sophie Marceau Plays Electra King, The Daughter And Heir, To Sir Robert King,An Illustrious Oil Tycoon Who Is Murdered Within The MI6 Headquarters. She Is Most Known For Her Role As The Young British Queen Opposite Mel Gibson In "Braveheart" And Was Most Recently In The Comedy "Lost And Found" With David Spade. Born November 17, 1966. Paris, France.
---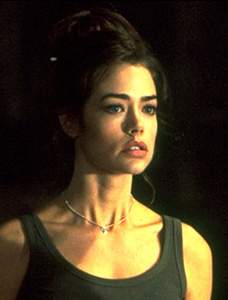 Denise Richards Plays Nuclear Physicist, Dr. Christmas Jones. She Burst Into The Spot Light In "Starship Troopers" And Hasn't Stopped Since. She's Appeared In Such Movies As "Wild Things" and "Drop Dead Gorgeous". She Also Appeared In Several Episodes Of Melrose Place. Her First Movie Role Was In The "Lethal Weapon" Spoof, "Loaded Weapon 1". She Was Born On February 17, 1972, Downers Grove, Illinois.
---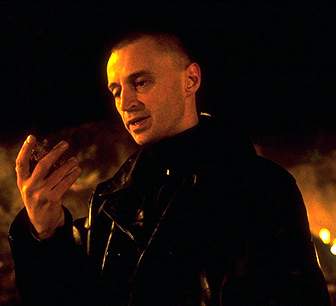 Robert Carlyle, has appeared in such movies as "Trainspotting", "The Full Monte", "Ravenous", and "Plunkett and Macleane". In "The World Is Not Enough" He Plays An Ex-KGB Agent Turned Terrorist Who No Longer Feels Pain (Or Pleasure) After Suffering From A Bullet Wound To His Brain. Robert Carlyle Was Born On April 14, 1961 In Glasgow, Scotland.
---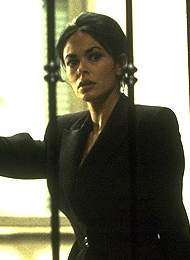 Maria Grazia Cucinotta, Is A Deadly Assassin Who's Mission Is To Make Sure Sir Robert King Is Dead, And Stays That Way. Cucinotta Has Appeared In A Score Of Italian Films And Television Shows, Including Il Postino. She Was Born On July 27, 1969. Messina, Italy
---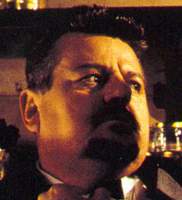 Robbie Coltrane, Reprises His Role As Valentine Zukovsky, A Role He Introduced In "Goldeneye". Coltrane Was Born March 30, 1950, Rutherglen Scottland.
---
The Official "The World Is Not Enough" Poster and Teaser.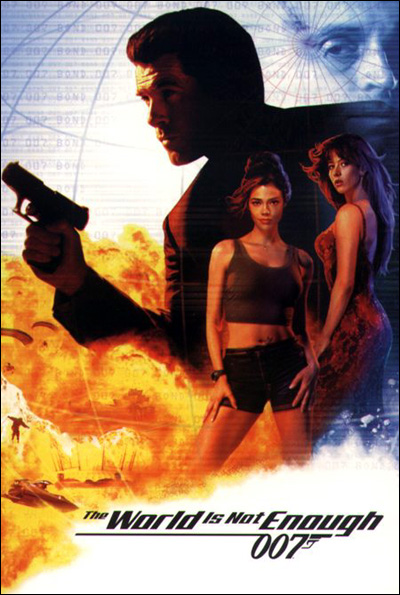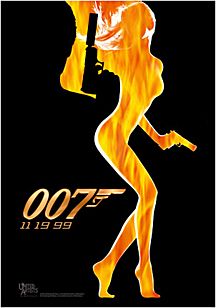 ---
The Cast And Crew List
Cast:
Bond-Pierce Brosnan
Elektra King-Sophie Marceau
Renard-Robert Carlyle
Dr. Christmas Jones-Denise Richards
M-Judi Dench
Q-Desmond Llewyn
Moneypenny-Samantha Bond
Valentine Zukovsky-Robbie Coltrane
"Cigar Girl"-Maria Grazia Cucinotti
R-John Cleese
Goldie-Bull
Bill Tanner-Michael Kitchen
Charles Robinson-Colin Salmon
Sir Robert King-David Calder
Crew:
Director-Micheal Apted
Producers-Michael G. Wilson, Barbara Broccoli
Editor-Jim Clark
Production Designer-Peter Lamont
Art Direction-Andrew Ackland-Snow, Mark Harris, Fred Hole, Neil Lamont, Simon Lamont, Steven Lawrence, Jim Morahan
Set Designer-Simon Wakefield
Costumes-Lindy Hemming
Special Effects-Alex Bicknell, Mara Bryan
Sound-Martin Evans, Chris Munroe
Casting-Debbie McWilliams
Music:
David Arnold (Musical Score)
Garbage (Title Song)
Locations:
Vehicles:
Bloopers
in World is not enough, Where valetine,bond,and the girl were at the caviar factory, Bond has his gun out and points it at the helicopter.Bond pulls the trigger 3 times put the gun clearly fires only twice. Noticed By Jay At adanac4@chicago.avenew.com
---
"The World Is Not Enough" Official Movie Site

NEW The World Is Not Enough Official Site
---



---