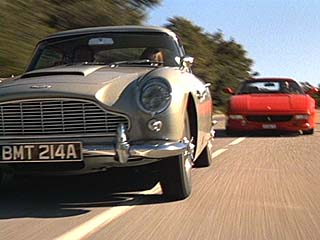 Released: November 17, 1995 (US)
Length: 2 hrs, 10 min.
The Goldeneye Video Game For The Nintendo 64 Has Already Come Out. Check Out A Review For The Game As Well As Some Pics Of It At The Game Fan Website.
The Woman

Natalya Simonova
Played By:
Izabella Scorupco
Date Of Birth: 1970 Place Of Birth: Byalystok, Poland
---
The Ally

C.I.A. Agent Jack Wade
Played By:
Joe Don Baker
Date Of Birth: February 12, 1936 Place Of Birth: Groesbek, Texas
Joe Don Baker Has Also Appeared In The Living Daylights As Arms Dealer, Brad Whitaker, And Comes Back As Jack Wade In Tomorrow Never Dies.
---
The Villians

Alec Trevelyan (006)
Played By:
Sean Bean
Place Of Birth: Sheffield, Yorkshire
Sean Bean Is Also Known For His Film Role In "Patriot Games" With Harrison Ford.
---

Xenia Onatopp
Played By:
Famke Janssen
Place Of Birth:Holland
Famke Janssen Has Also Appeared In Episodes Of "Star Trek: The Next Generation", Melrose Place, And "The Untouchables". Janssen's Movie Roles Include "Fathers And Sons" With Jeff Goldblum, And Clive Barker's "Lord Of Illusions" With Scott Bakula.
---
General Arkady Grigovich Orumov
Played By:
Gottfried John
Place Of Birth: Germany
---

Boris Grishenko
Played By:
Alan Cumming
Date Of Birth: 1965 Place Of Birth: Perthshire, Scotland
Alan Cummings Was Also The Write And Director Of The Award-Winning Short Film Entitled "Butter"
---
The Vehicle

BMW Z3 Roadster
---
CREDITS
James Bond...............................Pierce Bronan Alec Trevelyan(006)......................Sean Bean Natalya Simonova.........................Izabella Scorupco Xenia Onatopp............................Famke Janssen "M"......................................Dame Judi Dench Jack Wade................................Joe Don Baker Valentin Dimitrovich Zukovsky............Robbie Coltrane Dimitri Mishkin..........................Tcheky Karyo General Arkady Grigovich Ourumov.........Gottfried John Boris Grishenko..........................Alan Cumming Miss Moneypenny..........................Samantha Bond "Q" (Major Boothroyd)....................Desmond Llewelyn Bill Tanner..............................Michael Kitchen Caroline.................................Serena Gordon Admiral Chuck Farrel.....................Billy J. Mitchell Anna.....................................Michelle Arthur Irina....................................Minnie Driver Produced By: Barbara Broccoli Michael G. Wilson Screenplay By: Jeffrey Caine Bruce Feirstein Story By: Michael France Directed By: Martin Campbell Music By: Eric Serra Theme Song Lyrics By: Bono And The Edge Theme Song Sung By: Tina Turner Locations: Arkangel Weapons Facility U.S.S.R., Monte Carlo France, London England, St. Petersburg Russia, Caribbean, Cuba, Severnaya Gadgets And Weapons: Digital Uplink Camera, "Goldeneye", Key-Code Override Device, Magnetic Mines, Omega Laser Watch, Pen Grenade, Piton Gun/Laser Cutter, Rappelling Belt, Walther PPK, Leg Cast Missle, Phone Booth Airbag, X-Ray Document Scanner Vehicles: Aston Martin DB5, BMW Z3 Roadster, Cagiva Motorcycle, Ferrari 355, ICBM Train, Wade's Moskovich, "Manticore" Yacht, MIG 29 Fighters, Tiger Helicopter, Russian Tank 343, French Warship "La Fayette", Cessna
---
Goldeneye Bloopers
1. Does anyone know what Bond says when Zukovsky tries to shot him at his manhood? (Question By CHorJuNsAh) 2. In the end of the pre-title sequence, bond jumps of a cliff after the aeroplane, well, how can a man be faster than a speeding airplane? It's impossible! (Blooper Noticed By Eyal Aviv)
---



---