Release date: December 19, 1997 (USA)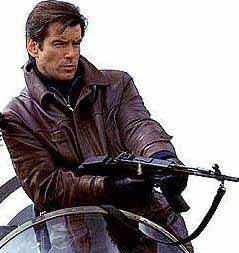 The Cold War Is Over, Or At Least That's What They'd Like Us To beleive, But Terrorism Still Runs High. Only One Man Can Make Sure That Tomorrow Never Dies. The Worlds Largest Media Mogol, Elliot Carver, Has It In His Mind That The Only Good News, Is Bad News. And What Could Be The Worst News That Anyone Could Come Up With? WORLD WAR III. With The Help Of A Stealth Ship, Satellite Uplinks, And Headline Stories In His News Papers, Magazines, And TV News Reports, Carver Raises Tensions Between Communist China And Great Britain. It's Up To Secret Service Agent James Bond, And His Newly Found Partner, Chinese Operative Wai Lin, To Find Out Carver Sinister Scheme, And Stop Him.
---
The Cast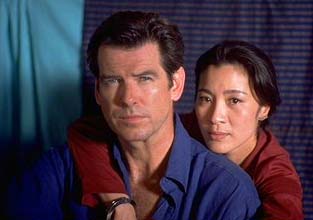 Hong Kong Star, And Former "Miss Malaysia", Michelle Yeoh (Khan) Plays Wai Lin, An Agent Who Is Sent To Find Out Eliot Carver's Scheme. She Was Most Recently Known For Her Role In Supercop, Co-Staring With Jackie Chan. Her Real Name Is Yeoh Chu-Kheng. She Was Born On August 6, 1963 And Resides In Ipoh, Perak. Kahn Is Of Chinese Ethnicity, But Is A Malaysian Citizen.
---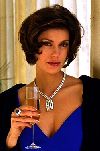 "Lois And Clark" Star Teri Hatcher Plays The Wife Of The New Bond Villian, Paris Carver. Teri Hatcher Has Appeared In A Slew Of Films, Including "Tango And Cash", "Heaven's Prisoners", And "2 Days In The Valley". She Was Even Once The "Most Downloaded Woman In The Internet".
---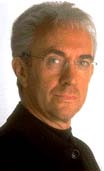 Jonathan Pryce, Most Recently Seen In The 1996 Musical "Evita", Plays Media Mogul, Elliot Carver, Who Is Hell-Bent On Starting World War Three, And Villian To Bond In The Eighteenth Installment. Jonathan Pryce, An English Actor, Has Spent Most Of His Career In The Theater.
---

Gotz Otto, Plays One Of Elliot Carver's Henchmen, Stamper. A German Assassin With A Pension For Pain. If You Don't Talk, He'll Make You Scream.
---

Vincent Schiavelli, Plays Kaufman, A Marksman Who Knows Every Which Way To Make An Assassination Look Like A Suicide. Unfortunately For Him, He's Been Sent To Kill Bond. Poor Fella.
---
The Official "Tomorrow Never Dies" Poster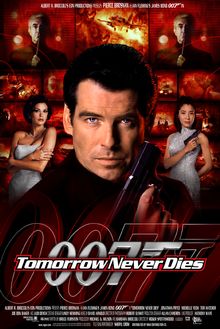 ---
The Cast And Crew List
Cast:
Bond-Pierce Brosnan
Elliot Carver (Villain)-Jonathan Pryce
Wai Lin-Michelle Yeoh
Paris Carver-Teri Hatcher
Inga Bergstrom-Cecile Thomsen
Tamara-Nina Young
Stamper (Henchman)-Gotz Otto
M-Judi Dench
Q-Desmond Llewyn
Moneypenny-Samantha Bond
Jack Wade-Joe Don Baker
Other Supporting Cast-Vincent Schiavelli, Antje Schmidt, And Daphne Deckers
Crew:
Director-Roger Spottiswoode
Producers-Michael G. Wilson, Barbara Broccoli
Assistant Director-Gerry Gavigan
Editors-Dominique Fortin, Michael Arcand
Production Designer-Allan Cameron
Production Coordinator-Elena Zokas
Art Direction-Jonathan Lee, Giles Masters, Tony Reading, Stephen Scott
Set Designer-Peter Young
Costumes-Lindy Hemming
Special Effects-Bill Neil, Chris Corbould
Camera-Robert Elswit
Sound-Chris Munroe
Casting-Debbie McWilliams
Music:
David Arnold (Musical Score)
Sheryl Crow (Title Song)
Locations:
Thailand
Mexico (Underwater scenes)
France (Pre-title)
Germany
Plymouth
Frogmore Studios, St. Albans, England
Pinewood Studios, England
Brent Cross Mall, England
Vehicles:
BMW 750i-Licence plate # BMT 2144
BMW R1200 Motorcycle- Licence plate # 2-0354
Bond's New Gun:
---
"Tomorrow Never Dies" Movie Clips

NEW Tomorrow Never Dies Official Trailer

The Entertainment Tonite Movie Clip.
---



---