Released: June 10, 1983 (US)
Length: 2 hrs, 10 min.
The Women

Octopussy
Played By:
Maud Adams
Real Name: Maud Wilkstrom Date Of Birth: February 12, 1945 Place Of Birth: Lulea, Sweden
---

Magda
Played By:
Kristina Wayborn
Place Of Birth: Olano, Sweden
---
The Allies

Vijay
Played By:
Vijay Amritraj
Before He Became An Actor, Vijay Amritraj Was A Champion Tennis Player. He Also Appeared In "Star Trek IV" As The Captain Of The U.S.S. Yorktown.
---

009
Played By:
Andy Bradford
---

General Gogol
Played By:
Walter Gotell
Date Of Birth: 1924 Place Of Birth: Ireland Date Of Death: May 1997
Walter Gotell Has Also Appeared In "From Russia With Love" As The Spectre Agent, Morzeny. Gotell Also Came Back As General Gogol In "The Spy Who Loved Me", "Moonraker", "For Your Eyes Only", "A View To A Kill", And "The Living Daylights". Gotell Has Appeared In Over 45 Motion Pictures.
---
The Villians

Prince Kamal Khan
Played By:
Louis Jourdan
Real Name: Louise Gendre Date Of Birth: June 19, 1919 Place Of Birth: Marseilles, France
---

General Orlov
Played By:
Steven Berkoff
Date Of Birth: 1937 Place Of Birth: Stepney, London
---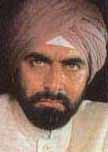 Gobinda
Played By:
Kabir Bedi
---

The Twins
Played By:
David & Anthony Meyer
---
The Vehicle

AcroStar Mini-Jet
---
CREDITS
James Bond...............................Roger Moore Octopussy................................Maud Adams "M"......................................Robert Brown Moneypenny...............................Lois Maxwell "Q" (Major Boothroyd)....................Desmond Llewelyn Penelope Smallbone.......................Michaela Clavell Bianca...................................Tina Hudson Magda....................................Kristina Wayborn Vijay....................................Vijay Amritraj General Gogol............................Walter Gotell General Orlov............................Steven Berkoff Minister Of Defence......................Geoffrey Keen Prince Kamal Khan........................Louis Jourdan Gobinda..................................Kabir Bedi Twins....................................David & Anthony Meyer 009......................................Andy Bradford Produced By: Albert R. Brocoli Screenplay By: Richard Maibaum Michael G. Wilson George MacDonald Fraser Directed By: John Glen Music By: John Barry Theme Song Lyrics By: Tom Rice Theme Song Sung By: Rita Coolidge Locations: Banana Republic, London, Uoaipur India, East Germany, West Germany Gadgets And Weapons: Acid Pen With Ear Piece, Seiko Watch Homer/Receiver, Yo-yo Saw, Walther PPK Vehicles: Acrostar Mini-Jet, Octopussy's Barge, Octopussy's Circus Train, 3-Wheel "Company Taxi", Crocodile Submarine, Q's Hot Air Balloon
---
Octo Bloopers
1. During the final fight scene atop Kamal's plane, Gobinda's parachute can be seen. (Blooper Noticed ByCWestergard) 2. In Octopussy, during the opening sequnce, when Bond flys through the hangarbay in the Mini-jet, you can see a stick that is holding the jet up and moving it through the hangar. (Blooper Noticed By Rúnar Sigurđur Sigurjónsson)
---



---