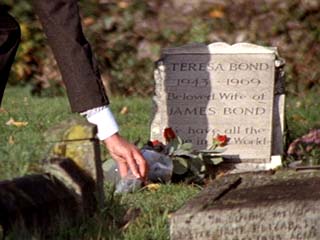 Released: June 26, 1981 (US)
Length: 2 hrs, 8 min.
The Women

Melina Havelock
Played By:
Carol Bouquet
Date Of Birth: 1957 Place Of Birth: France
Carole Bouquet Landed Her First Movie Role In "That Obscure Object Of Desire" (1977) Which Was Nomitated For An Academy Award.
---

Bibi Dahl
Played By:
Lynn-Holly Johnson
Date Of Birth: December 13, 1958 Place Of Birth: Glenview, Illinois
Lynn-Holly Johnson Began Ice Skating At The Age Of Four. She Won The Silver Metal In The 1974 U.S. National Novice Free Skating. In 1977, Lynn-Holly Turned Pro And Joined The Ice Capades. Her First Film Role Was In The 1978 Film, "Ice Castles" In Which She Won A Golden Globe For Most Promising Newcomer.
---

Jacoba Brink
Played By:
Jill Bennet
---
The Allies

Milos Columbo
Played By:
Topol
Real Name: Haym Topol Date Of Birth: September 9, 1935 Place Of Birth: Tel Aviv, Israel
Topol Was Nominated For An Academy Award For His Role In The London Film Version Of "The Fiddler On The Roof". He Also Appeared In "Flash Gordon" Alongside Timothy Dalton.
---
The Villians

Aris Kristatos
Played By:
Julian Glover
Date Of Birth: March 27, 1935 Place Of Birth: St. John's Wood, London, England
Julian Glover Almost became Bond In "For You Eyes Only" If Roger Moore Hadn't Returned For This Installment. He Was One Out Of The Last Three Actors To Be Chosen From. Julian Has Had Numerous Film Roles, Including "Wuthering Heights" With Timothy Dalton, "Indiana Jones And The Last Crusade" With Sean Connery, And One Of My Personal Favorites, "Star Wars: The Empire Strikes Back!". "General Veers! Prepare Your Men!"
---

Locque
Played By:
Michael Gothard
---

Kriegler
Played By:
John Wyman
---

Ernst Stavro Blofeld
Played By:
?
---
The Rival

General Gogol
Played By:
Walter Gotell
Date Of Birth: 1924 Place Of Birth: Ireland Date Of Death: May 1997
Walter Gotell Has Also Appeared In "From Russia With Love" As The Spectre Agent, Morzeny. Gotell Also Came Back As General Gogol In "The Spy Who Loved Me", "Moonraker", "Octopussy", "A View To A Kill", And "The Living Daylights". Gotell Has Appeared In Over 45 Motion Pictures.
---
The Vehicles

Lotus Esprit Turbo
---

Citroen 2CV
---

Red Lotus Esprit Turbo
---
CREDITS
James Bond...............................Roger Moore Melina Havelock..........................Carol Topol Moneypenny...............................Lois Maxwell "Q" (Major Boothroyd)....................Desmond Llewelyn Minister Of Defence......................Geoffrey Keen Cheif Of Staff Tanner....................James Villers General Gogol............................Walter Gotell Milos Columbo............................Topol Bibi Dahl................................Lynn-Holly Johnson Aris Kristatos...........................Julian Glover Countess Lisl VonSlaugh..................Cassandra Harris Jacoba Brink.............................Jill Bennett Locque...................................Kriegler Ferrara..................................John Moreno Denis....................................John Wells Prime Minister...........................Janet Brown Havelock.................................Jack Hedley Iona Havelock............................Toby Robins Produced By: Albert R. Brocoli Screenplay By: Richard Maibaum Michael G. Wilson Directed By: John Glen Music By: Bill Conti Theme Song Lyrics By: Michael Leeson Theme Song Sung By: Sheena Easton Locations: Tracy Bond's Grave Buckinhamshire, London, Madrid Spain, Cortina Italy, Albania, Corfu Greece, St. Cyril's Greece Gadgets And Weapons: 3D Indentigraph, A.T.A.C., Crossbow, Mantis Man Diving Suit, Seiko Quartz Chronograph, Spring-Loaded Arm Cast, Talon Umbrella, Walther PPK Vehicles: Citroen 2CV, Lotus Esprit Turbo (White), Lotus Esprit Turbo (Red), Mantis Sub, Neptune Sub, Columbo's Schooner, The Santa Marva (Kristatos' Yacht), The Triana (Havelock's Yacht), Snow Motorcycles, St.Georges, Dune Buggies, Bell Jet Ranger Helicopter
---
Eye Bloopers
1. Loques Mercedes is engine-less.(Blooper Noticed ByCWestergard) 2. Loque lies several metres from his car. Still he just fell out of the window. (Blooper Noticed ByCWestergard) 3. Enormously fast change from night to day in Albanian warehouse-clash (Blooper Noticed ByCWestergard) 4. The Hockey-goal is made of wood. (Blooper Noticed ByCWestergard)
---



---